An interview with Natalya Kovaleva
Natalya Kovaleva ("Nata" on KGS) is currently one of the strongest girls in Europe. She was the European Woman champion-2007 and won the European Pair-Go championship several times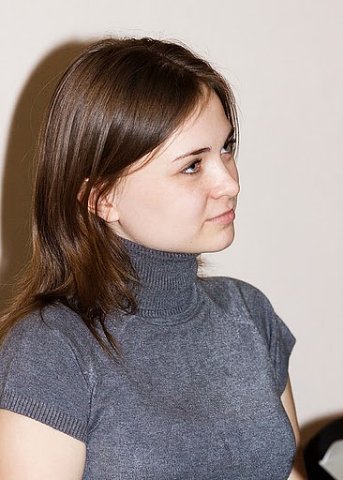 Q. When did you start to play Go and why did you choose Go and not
chess, which are more popular in Russia?
A. I started to play Go at the age of 7. My elder brother already played Go and he started to take part in Go tournaments outside of our city. I also wanted to travel and decided that Go can help me. I play Go till now and travel a lot – I get very big pleasure from my trips!
Q. Your home city, Chelyabinsk is almost 2000 km away from Moscow and
S-Petersburg. Is it difficult for you to take part in Go tournaments
outside of your city? How do you find sponsors for such a long trips?
A. Unfortunately I don't have a sponsor and I have to pay for my Go trips myself. In Russia most tournaments are in Moscow and S-Petersburg, so I cannot take part in Go tournaments as often as I want.
Q. You won the European Woman Go Championship in 2007, but later you
did not take part in this tournament. What was the main reason?
A. 2007 European Woman Go Championship was held in Russia, also it was played immediately after the European Pair-Go championship, so I took part in both events and got two first places within 1 week (together with Dmitrij Surin in Pair-Go). It was a world record, I guess, and it will be hard for anyone to repeat it.
After 2007 I did not play in any Woman Championships, because I don't have any motivation. There are no prizes and, comparing to European Pair-Go tournaments, there are no World Female Championship to qualify ( but there is a World Pair-Go championship in Japan)
Q. Can we say that prizes in European female tournaments are too small?
What was the biggest one you got?
A. There are no prizes at all in female tournaments. My biggest prize was zero US dollars!
Not long time ago they hold a Kido cup in Germany with a good tournament system of separated tournaments, including female part, but the first prize in female tournament was not big enough to cover my travel expenses , so I did not take part.
Q.I heard the opinion that it's possible to attract more female
players if we change the colors of Go stones – make them red and
green, for example. What do you think about this idea?
A. I don't think that this idea is good. We need other methods of popularization of female Go. And you, male Go players are also interested in it! Go tournaments are too dull without girls!
Q. I know that you beat Japanese female titleholder during the last
WMSG in Beijing. Please describe us this game and your feelings after
the game.
A. Before the game I did not know, that my opponent – Kana Manami is Japanese Kisei, but it was clear that she is a very serious opponent. It was the last round of the female qualification tournament and my last chance (not a big one) to go to the next stage. I wanted to win this game very much! We can say, that I was lucky, but if you have big desire to win – everything is possible! Also, not everyone can put a professional on last 30-second byoyomi on move number 120.
After the game I immediately went to the tournament table and checked it, but unfortunately I had not enough SOS to qualify for the knock-outs.
Anyway, I was satisfied with my performance. I lost to 2 professional players and beat Kana Manami, who was 4th in the final knock-out.
Q. Manami Kana got 6,000,000 Yen (near 66.000 USD) as female Kisei
title winner-2006. Did you ever think about coming to Japan and trying
to become pro? I believe that you are not much weaker than regular
Japanese female pros
A. It was better to make it earlier. Now I am not so young for Asia. I will finish my university studies this year and probably will try some study trips in near future.
Q. Did you enjoy WMSG? Please share good and bad feelings about this event.
A. WMSG was the best tournament I saw. I like the idea of connecting different kind of board games in 1 event. I have some negative feelings from WMSG – mainly the work of referees and pairing, but I don't like to think again about such episodes.
Q.I know that you work as a Go teacher in Chelyabinsk city and you
also teach Go online. What was the biggest progress, showed by your
student?
A. I teach Go in Go school, which I attended myself than I was a small girl. Now we work together with my trainer Evgenij Panyukov, so it's not honest to call someone "my own student". They are our students and the best students we have were the prize-winners of the Russian under 12 and under 18 championships.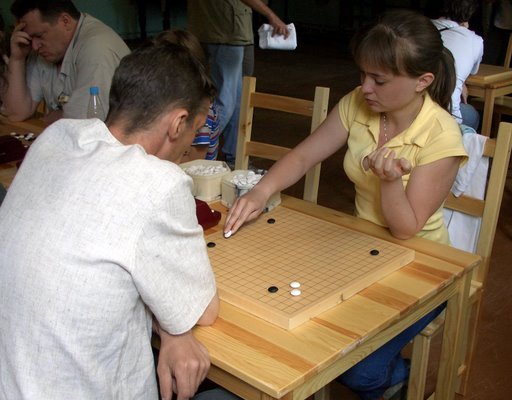 On photo: Natalya vs Dmitrij Surin, 6-dan, Russian Go cup-2008 in S-Petersburg