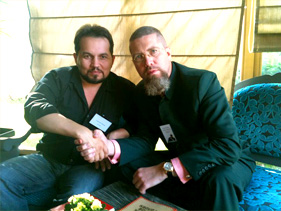 Presidents of 2 Russian Go Federations Sergey Lvov (left) and Igor Grishin, shaking hands
The game of Go truly began to gain popularity in the Soviet Union in 1978 after several articles about the game were published in "Science and Life" magazine. Hundreds of people in different cities all around our country started playing Go after reading these articles. Go clubs were started in such major cities as St. Petersburg, Moscow, Nizhniy Novgorod, and Kazan, as well as in many others.
Some of these players, who were true pioneers of the Go world in the Soviet Union, are still active today. Others have passed their deep love of the game on to their children.
Aleksey Vasilev, Sergey Uspenskij, Valerij Solovyev, and Vladimir Goltsman are all former presidents of the Russian Go Federation who have worked hard to increase the population of Go players in Russia.
Sergey Lvov, who was selected to be the new president of the Russian Go Association in 2008, has promised that he will devote every effort to reaching his primary goal: in the near future, 1,000,000 Russians will know how to play Go!
I hope that we can all work on this impressive goal together!